ABOUT US
What Makes Us Tick?
Kenai River Fly Fishing was originally established in 1988 and has a long history of experienced guides, and has always been a family run business.
Owners and long time established locals "Big Mike" and Jen Harpe have been running the business since 2012 while continuing to honor the core of the business. Fishing is a passion for both, but so is finding the beauty and helping with the preservation of the resource. KRFF has long only hired experienced guides who are like minded and care about the river and surrounding areas. We work diligently to not only give you an excellent fishing trip, but an overall experience and education of the resources we are fortunate to work and play in year round!
Taking Reservations for the 2023 Season!
If you are bug-eyed from perusing the Internet for the right guide service, simply give KRFF a call. Oh yea, be sure to include the "canyon" float into your schedule, you won't be sorry.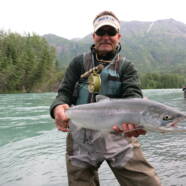 We had a ball, and are already thinking about booking another trip for next year.  You'll remember Tony's "SOB" outbursts!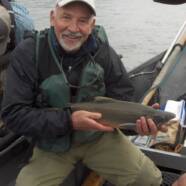 I have been fortunate to fish in Mexico, Hawaii, Texas and Canada. But this experience was the best. Of all the fish I chase, I still love to trout fish and nothing holds a candle to those crazy Rainbows in Alaska.