What We Provide:
All equipment is provided, which includes but is not limited to:
20′ Willie drift boats – up to 4 anglers per boat
Flies, leaders, weights and necessary terminal tackle
Loomis fly rods and Ross reels for Rainbow Trout fishing
St. Croix fly rods and STH reels for Salmon fishing
Chest waders, Helly Hanson rain gear and life vests.
Clients are encouraged to bring their own fishing gear, rain gear, and/or chest waders if they would like.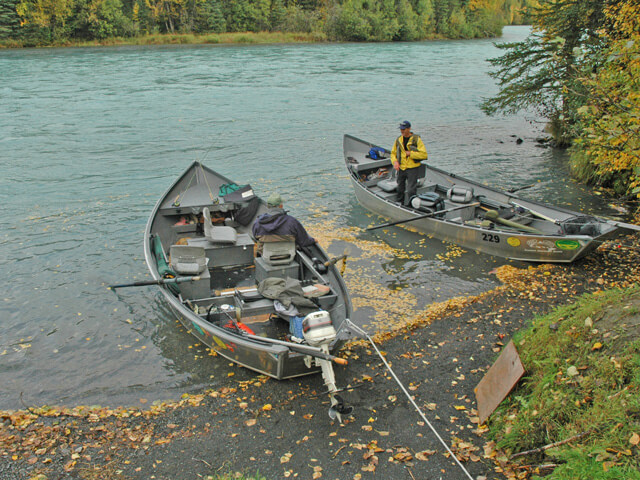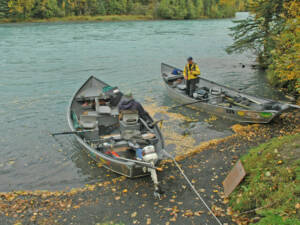 What You Need to Bring:
Warm Clothes – We recommend that you dress in layers. Try to bring wool or polar fleece as cotton holds in water and becomes uncomfortable when wet. A hat, gloves and non-cotton socks are also reccomended.
Rain Gear – Rain gear can be provided, but your own may be more comfortable as ours is heavy duty Helly Hanson rain gear.
Polarized Sunglasses – We recommend bringing polarized sunglasses, if you have them.
Fishing License – An Alaska fishing license valid for the day of the charter is required. Please purchase your fishing license in advance of your scheduled trip. Click here to buy your license online!
Food & Drink – Please bring any food, snacks or non-alcoholic drink that you may want during your trip.
Camera – Camera gear is encouraged and there is ample dry storage on the boat. You are responsible for your own gear and we recommend that you keep it in a dry storage bag.
***Equipment that is lost or broken due to negligent misuse by the client will be charged to the client.